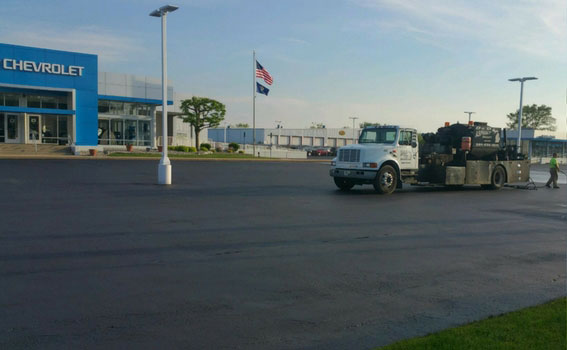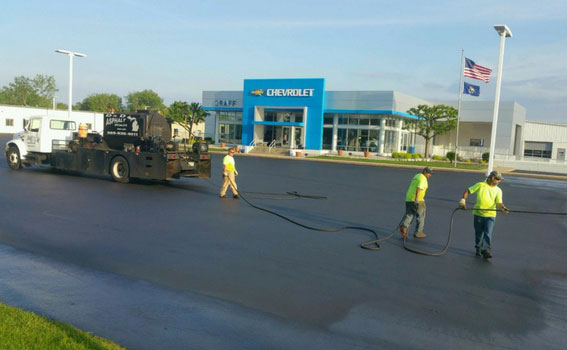 ASPHALT REPAIR SERVICES MIDLAND MI
Don't Allow Small, Unsightly Cracks to Become Big Pothole Problems!
Trust D & D to be Your Asphalt Repair Service: Cracks in asphalt pavements allow water penetration from rain and snow into the sub-base of the pavement.  Failure to seal cracks results in more cracks, potholes and eventually a major pavement breakdown, causing expensive asphalt repairs and overlays.
At D & D Asphalt We Do It Right!
Before doing any asphalt crack sealing, it is extremely important to follow the proper steps to prepare the area:
Spray the weeds five days prior to filling
Remove the weeds
Cracks to be cleaned out with 100-psi air pressure
Finish by applying sealant in cracks to create a watertight seal
Roadpatcher Machine: Repairs deteriorated pavement.  Fast and efficient – Low carbon emissions – NO excavation required – No waste material – No damage to surrounding pavement surface – Drive on immediately.
Cut and Patch Repairs: We cut out beyond the damaged area, remove the deteriorated pavement, sub-base is fine graded and repaved with a hot bituminous paving material matching the depth of the existing pavement.
Infrared Asphalt Heating Repairs: Since 1995, we have been using our new state-of-the-art infrared unit; it creates One and Half Million BTU's of heat.  Heating up the existing pavement 2-3 inches deep allows for the removal of pavement so new bituminous paving material can be installed.  There is no saw cut joints for water penetration.  It is also used for repairing small water-ponding areas.  It is faster, cleaner and less expensive than the cut and patch method.
Other Pavement Maintenance Services:
Storm Drain Rebuilding
Storm Drain Repairing and Cleaning
Water Control
Concrete Grinding
"The Leading Sealcoating Company in Mid-Michigan"
Closed for winter Nov. 1st – March 1st
Contact Us for a Free Estimate! Call us Today!
We Seal More Pavement Than Anyone Else
Primary Communities Served
Auburn
Bay City
Bridgeport
Carrollton
Chesaning
Coleman
Crump
Essexville
Frankenmuth
Freeland
Hemlock
Kawkawlin
Linwood
Merril
Midland
Oil City
Richville
Saginaw
Sanford
Shields
St. Charles
University Center
Vassar
Zilwaukee