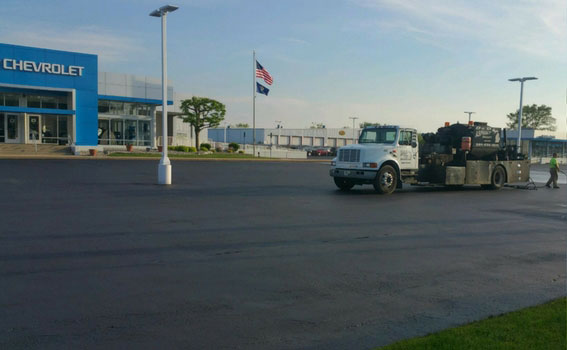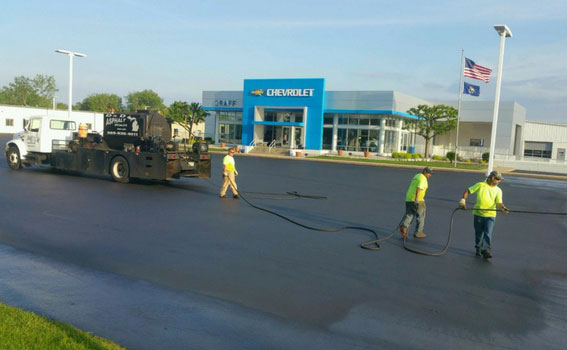 ASPHALT SEALCOATING MIDLAND MI
"People Buy with Their Eyes"
Your first impression makes a difference! A safe and attractive parking lot goes a long way in welcoming your client, and showing them that you care about the details.
An attractive parking lot is not the only reason to sealcoat…Asphalt Sealcoating helps to preserve your investment. It is the first, most important step to extending the longevity of your pavement.
Sealcoating improves curb appeal to your potential buyer, tenant, or customer. Make the first impression – the right impression.
What Does Sealcoating Do?
Seals hairline cracks
Resists oxidation: acts as a sun screen against UV rays
Protects against oil and gas leaks
Helps retain flexibility
Replaces eroded surfaces
Eases pavement cleaning
Extends pavement life
Routine Maintenance Saves Money
Sealing your parking lot or driveway every 3-5 years on a routine basis will greatly increase the life of your pavement.
Since 1985, D & D Asphalt Specialists has established a very high standard for workmanship and professional service.
Regular sealer does not always meet the needs of our clients, therefore, we formulate special sealer mixes for special applications. We will make a formula to meet your needs.
D & D Asphalt is a full service facility maintenance company that also provides:
asphalt paving
and additional services to keep your property safe and attractive
"The Leading Sealcoating Company in Mid-Michigan"
Closed for winter Nov. 1st – March 1st
Contact Us for a Free Estimate! Call us Today!
We Seal More Pavement Than Anyone Else
Primary Communities Served
Auburn
Bay City
Bridgeport
Carrollton
Chesaning
Coleman
Crump
Essexville
Frankenmuth
Freeland
Hemlock
Kawkawlin
Linwood
Merril
Midland
Oil City
Richville
Saginaw
Sanford
Shields
St. Charles
University Center
Vassar
Zilwaukee